Poet Dylan Thomas lost notebook set for £100k auction sale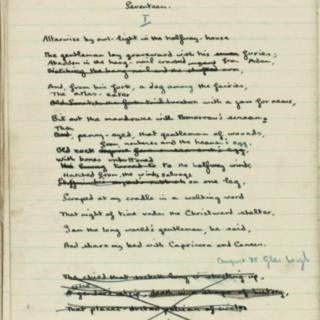 A previously unknown notebook by Dylan Thomas containing 49 hand written poems is expected to sell for more than £100,000 at auction next month.
The book was left at the Hampshire home of his mother-in-law Yvonne Macnamara in the 1930s.
It is by luck it survived as a member of her household staff, Louie King, was apparently asked to burn it - but he kept it safe.
The book stayed in the King family and was forgotten until decades later.
It is due to be auctioned by Sotheby's London in December with a price tag of between £100,000-£150,000.
Doctor Gabriel Heaton, a specialist in English manuscripts at Sotheby's said the hand-written revisions made to the poems give a "unique insight" into how the poet worked.
'Important discovery'
He said: "This is the most significant Dylan Thomas manuscript to appear since the poet's death.
"It is a tremendously significant addition to the Thomas' manuscripts we have. It's a very important discovery.
"This is a unique opportunity to acquire something that is a physical manifestation of Dylan's poetic imagination.
"You can see him changing his mind, rethinking and refining his imagery.
"There's never been anything like it on the market and it's unlikely there will ever again."
The auction will also include a letter written by Thomas to a friend while staying at the home of his mother-in-law in which he explains his feelings towards her.
He writes: "...This flat English country levels the intelligence, planes down the imagination, narrows the a's, my ears belch up old wax and misremembered passages of misunderstood music,
"I sit and hate my mother-in-law, glowering at her from corners and grumbling about her in the sad, sticky, quiet of the lavatory..."
Yvonne Macnamara is said to have given Thomas's exercise book to Mr King, who died about 40 years ago, with instructions to incinerate it in the kitchen boiler.
Forgotten
However, a note attached to the cover says: "This Book of Poetry by Dylan Thomas was with a lot of papers given to me to burn in the kitchen boiler.
"I saved it and forgot all about it until I read of his death..."
It is thought the notebook was started before 20 July 1934 and completed by August 1935 when the Swansea-born poet had established himself in the literary world .
It also marked the period of his move to London.
The auctioneers said notable poems from the book include the only known manuscripts for Thomas's sonnet sequence, Altarwise by Owl-Light, complete with revisions.