GPS trackers used to steal bicycles in Carmarthenshire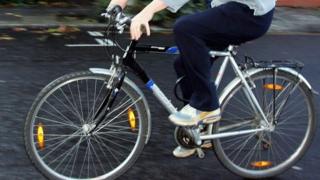 Thieves are believed to be stealing bicycles by looking at the routes people have posted online using a mobile phone tracking app.
Dyfed-Powys Police said the information allows thieves to see where the trips begin and end - usually at home.
Riders are being urged to tighten their online privacy settings to ensure their home address is hidden.
The warning comes following an increase in thefts of high-value bikes across Carmarthenshire.
Det Con Ciaran Ryan, of Llanelli CID, said: "These apps allow users to track their rides and view the rides of others on a map.
"Some GPS data is shared publicly on these sites and is so accurate it pinpoints the exact house where their rides have begun and ended.
"This information, along with the facility to post a description and photos of bicycles owned, give a potential thief all the information they need to steal the bike."
He urged riders not to start recording their ride until they are a few streets away from home.