Unemployment: Rate stays the same in Wales but falls in UK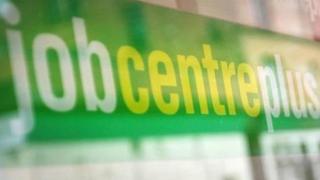 The unemployment rate in Wales has remained unchanged but has fallen across the UK in the past few months.
Figures from the Office of National Statistics for July to September show the rate at 6.6%, compared to 6% for the UK.
However they also show that while there are 20,000 fewer people unemployed compared to a year ago, there are also 24,000 fewer people working.
Wales is the only part of the UK where employment has fallen in the past year.
In contrast, employment across the UK has risen by nearly 700,000 in that period.
Unemployment rate explained
The rate of unemployment refers to people who are without a job, are available to start work in the next two weeks, who have been seeking a job in the last four weeks or are waiting to start a job already obtained.
The employment rate can fall without the unemployment rate rising as people can move into economic inactivity without being officially unemployed, eg, people running a home, the retired or those permanently unable to work who are not classed as jobseekers.
Source: ONS
The Federation of Small Businesses sounded a note of caution about the static unemployment rate.
Iestyn Davies from FSB Wales said: "This trend fits with the findings of our own survey work, which shows that Welsh SMEs are less confident about the future than those in the UK as a whole.
"Given that smaller businesses have been the key driver of employment growth in Wales in the past year, we need to ensure that the Welsh government uses all the levers at its disposal to help small businesses grow."
Investment
First Minister Carwyn Jones said the Welsh government's policies were making a difference, and "our recovery continues".
He added: "Youth unemployment is falling faster in Wales than in the UK and claimant count is at its lowest rate since 2008."
Mr Jones pointed to upcoming export and investment events which he said would help attract new opportunities to Wales.
"We are using every opportunity to showcase Welsh skills and innovation to the world, explore new overseas markets for Welsh businesses and promote Wales as a can-do place to come to create jobs," he said.
"This Welsh government support is making a difference. It is the reason why companies such as CGI from Canada, Calbee from Japan, and American firms Tenneco Walker and Alert Logic have all announced or brought around 1,100 new jobs to Wales in the last few weeks."
Welsh Secretary Stephen Crabb said: "Creating jobs is at the heart of our plan to build a stronger economy and I am pleased that more people in Wales are benefiting from the peace of mind of a steady income."