Majority want Welsh and English bilingual push in schools - poll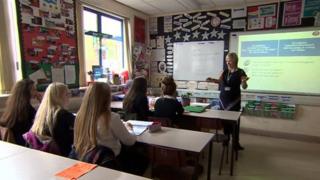 Most people in Wales would like to see school pupils taught to speak both Welsh and English, a survey claims.
A YouGov poll was commissioned by Cymdeithas yr Iaith Gymraeg (the Welsh Language Society), who said the results were a "challenge" for the government.
It shows 56% of people agree that schools should aim to ensure pupils can communicate effectively in both languages.
The Welsh government said the survey's results were "encouraging".
Of those questioned, 33% disagreed with the notion while 11% said they did not know.
Ffred Ffransis, an education spokesman for the pressure group, said the results were "very heartening".
"At the moment, our system is failing and is creating second-class citizens, they don't have the same work or cultural opportunities as others," he added.
Highly critical
Amanda Griffiths, head of Welsh at Lewis Girls School, an English-medium comprehensive in Ystrad Mynach, said ensuring all pupils leave school able to speak both languages to a high standard is currently impractical.
"We'd have to have far more teachers willing to teach Welsh, we'd need more resources and funding to make it work," she said.
A review of the school curriculum in Wales is being prepared by Professor Graham Donaldson of Glasgow University.
The Welsh government previously said this review will consider an overhaul of the way Welsh is taught as a second language.
It follows an independent review chaired by Professor Sioned Davies of Cardiff University, which was highly critical of the current system, claiming "it is undeniably the eleventh hour for Welsh second language".
A Welsh Government spokesman said its Welsh-medium education strategy aims to boost the numbers that can speak the language fluently.