Police urge people to 'give up the gun' during amnesty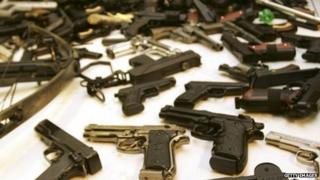 People in Wales are being urged to "give up the gun" by surrendering unlicensed firearms during a two-week amnesty.
The campaign, which starts on Monday, asks people to hand over unlawfully held or unwanted firearms and ammunition.
Police say the scheme aims to stop guns "getting into the wrong hands".
North Wales Police have had 35 items handed in, including shotguns, since their amnesty started last week.
Those surrendering items during the campaign will not face prosecution for illegal possession of the weapons.
Dyfed-Powys, South Wales and Gwent police forces said the amnesty gave people the chance to safely dispose of firearms they may still have despite an expired certificate.
It can also be used to get rid of firearms left by a family member who has died.
Police said many firearms were often held in innocence and ignorance of their illegality, or were overlooked and forgotten in people's homes.
South Wales Police Assistant Chief Constable Nikki Holland said: "Thankfully, gun crime is not a part of everyday life in the communities of Dyfed-Powys, South Wales and Gwent.
"However, we are supporting a national initiative to offer people the opportunity to surrender firearms and ammunition that may be unwanted or unlicensed."
She added licence-holders could be "reassured" the measures merely enhanced their rights to own firearms.
Firearms and ammunition can be surrendered by contacting the relevant police forces on 101 and arranging for them to be collected.
In north Wales the haul of 35 items handed over to officers included shotguns, air weapons and ammunition.
Insp Jonathan Salisbury-Jones is coordinating the surrender in north Wales which ends on Monday 17 November.
He said: "Gun crime in the UK has continued to fall year on year for the last ten years.
"However we are not complacent about gun crime, which is why we are conducting the surrender now."