National Library of Wales staff unfairly dismissed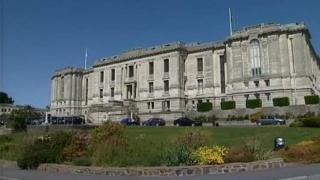 Two senior staff members at the National Library of Wales were unfairly dismissed, an employment tribunal has ruled.
Arwel Jones and Elwyn Williams were demoted by two grades over concerns about the way a tender had been awarded and managed for promotional work.
They both said they were treated unfairly during the disciplinary process.
Mr Jones resigned from his post although Mr Williams stayed on.
Sir Deian Hopkin, the president of the Aberystwyth-based library, gave evidence to the tribunal at Haverfordwest in Pembrokeshire last month.
He had been a member of an appeal panel that considered the pair's case in February.
'Level of demotion'
He told the tribunal that the three-person panel had asked management to reconsider the level of demotion given to both employees.
He admitted that he had described the sanction as "regrettable", but the panel felt that demotion was an appropriate sanction.
Sir Deian said it was a matter for management to decide on the level of demotion.
However, when pressed he said the "appeal panel felt that two grades was too much".
The full reasons for the ruling will be published later this month.