Call for ban on 'legal highs' being sold in Wales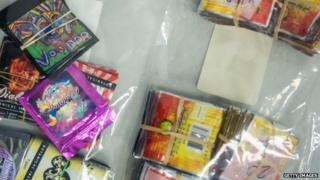 A call has been made for the sale of "legal highs" to be banned in Wales.
Councillors in Swansea want the UK government to adopt a similar approach to the Republic of Ireland.
Instead of banning drugs on a case-by-case basis, Ireland has banned all psychoactive 'brain altering' drugs and then exempted some such as alcohol.
The Home Office said it was looking into the feasibility of a blanket ban across the UK, with the focus on sellers rather than users.
"The police have very little powers stopping them being sold," said Swansea council leader Rob Stewart.
"We want to follow the Australian or Ireland models where we ban all legal highs.
"We favour the Ireland model. I would like Wales to adopt that."
What are legal highs?
Substances which produce similar effects to illegal drugs (such as cocaine and ecstasy) but that are not controlled under the Misuse of Drugs Act
This is because there is not enough research about the drugs to establish if they pose a health risk
Many of the substances cannot legally be sold for human consumption, but are often sold as bath salts or plant food to get round the law
They fall into three main categories: stimulants, sedatives and hallucinogens
Swansea councillors have passed a motion calling on the 21 other authorities in Wales along with the Welsh Local Government Association to support their ban call.
However, any final decision rests with the UK government.
The Welsh assembly's health and social care committee began an inquiry into "legal highs" last week.
Committee chairman David Rees said: "Although executive powers in this field largely rest with the UK government and the primary legislative powers of the assembly are limited with regard to the misuse of and dealing in drugs, this does not prevent us from seeking a co-ordinated approach at a UK level.
"At such an early stage of the inquiry the committee has not yet considered all of the evidence and therefore has not come to any firm conclusions as to the best way forward on this very important issue."
However, the UK government's crime prevention minister Lynne Featherstone confirmed that legal highs are in their sights.
"We are looking into the feasibility of a blanket ban on new psychoactive substances across the whole of the UK, clamping down on the suppliers and head shops rather than the users," she said.
"This approach had a dramatic impact on the availability of legal highs when introduced in Ireland, but we must ensure it would work here too."