Robbie Powell: CPS to review schoolboy's death 24 years ago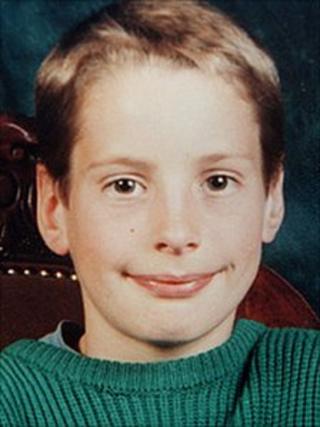 The death of a schoolboy 24 years ago from a treatable condition is to be reinvestigated by the Crown Prosecution Service.
Robbie Powell, 10, from Ystradgynlais, Powys, died at Swansea's Morriston Hospital, of Addison's disease in 1990.
An inquest into his death in 2004 found he died of natural causes aggravated by neglect, but the CPS said no criminal charges should be brought.
A letter to his family confirms the case will be looked at again.
Since Robbie's death his father William Powell has mounted a long campaign to get a public inquiry into the case.
Now the CPS has said it will look at the case material again and has asked South Wales Police to take a new statement from Mr Powell.
In July 2012, First Minister Carwyn Jones apologised to the family saying there had been a catalogue of errors and commissioned an investigation to look at the lessons the NHS could learn from the case.
But despite numerous investigations, including by the police, Mr Jones said Robbie's family had been let down repeatedly by the system.
In the two weeks before his death, the schoolboy was seen seven times by five doctors, none of whom diagnosed the condition.
Dyfed-Powys Police investigated his death, but the inquiry did not lead to any prosecutions.
An investigation of the force's handling of the matter by Avon and Somerset police found it was badly managed by senior detectives.
In 2003, Mr Powell met representatives from the CPS, who said there was evidence of some grounds against a number of people involved in the case.
But they said there was insufficient evidence for a jury to convict on some possible charges and it would not take further action because of the passage of time since Robbie's death and its earlier decisions not to prosecute.