Teenage Mutant Ninja Turtles film's terrapin influx fear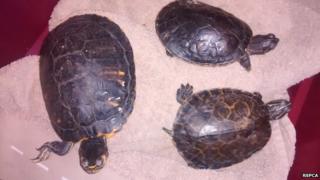 The popularity of the Teenage Mutant Ninja Turtles film has left the RSPCA braced for an influx of abandoned and dumped terrapins.
The charity said the original 1990 film sparked a craze for the reptiles - and it expects the same again as the latest film topped the box office last month.
It comes after three terrapins were found dumped in a bucket in woods in Trebanog, Rhondda Cynon Taf.
They have been checked over by a vet and taken to a rescue centre.
The RSPCA said that in the 1990s, animal rescue centres were inundated with abandoned terrapins and they were even spotted in public ponds around the country.
It said "ill informed" people had bought them after watching the film and TV series but when they realised that the 50p-sized babies grow to the size of a dinner plate and have specialist dietary and accommodation needs, some could not cope.
Nicola White, the RSPCA's senior scientific officer, said they were bracing themselves for a similar trend again.
"Terrapins are complicated animals to care for and can also carry bacteria such as salmonella," she said.
"We would discourage anyone from buying any pet on a whim and strongly urge people to think carefully first before buying an exotic pet.
"Releasing unwanted exotic pets into the wild is cruel and illegal.
"Most exotic pets are unlikely to be able to survive in the wild in Britain and non-native species could pose a serious threat to our native wildlife."