Welsh trunk road network riskiest in the UK, says report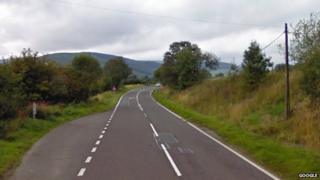 The Welsh trunk road network is the most dangerous of all trunk 'A' roads in the UK, according to a new report.
The Road Safety Foundation's assessment also found the highest-risk road in Wales is the national route - the A44 between Llangurig and Aberystwyth.
A total of 27 crashes were recorded on the road between 2010 and 2012.
The annual report said the risk on motorways is highest in the south east of Wales, with nine fatal and serious crashes per billion vehicle km.
The assessment tracks which UK roads have improved, and those with persistent and unacceptable high risks, highlighting roads where authorities have taken effective action.
It said authorities scheduling low-cost safety improvements alongside routine maintenance have helped reduce fatal and serious crashes by 80% on 15 stretches of UK roads.
Road risk map
Another Road Safety Foundation report, entitled Making Road Safety Pay, was also launched on Monday by chairman Lord Whitty.
It made seven road-safety recommendations to the UK government.
Lord Whitty said: "We can no longer accept sudden, violent road death as such a significant cause of premature loss of life.
"The Government must design, plan and legislate to put safety on roads on the same footing as safety in the air, sea or on rail."