Concerns over adoption service cash support for families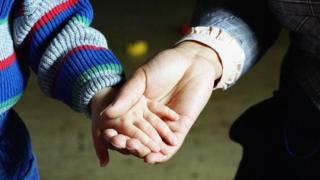 Children may miss out for adoption in Wales because the equivalent service in England will have a dedicated fund for supporting families, experts fear.
Wales' new national adoption service launches next week.
But there is no counterpart to the £19m support fund for adoptive parents available in England from next year - prompting fears potential adopters may choose to go over the border.
Ministers said Wales' new service would decide how best to support families.
Last year there were 289 adoptions in Wales.
Post-adoption support services are available in Wales but currently they are based on an assessment of need.
This element of the system will remain unchanged as the new adoption service is rolled out.
Phil Evans, of the Association of Directors for Social Services, said he is concerned potential adopters in Wales may see the support in England attractive.
'Difference'
He said: "If there's too great a difference between England and Wales then we may lose potential adopters for Welsh children and we can't allow that to happen.
"We need to understand why the offer in England seems to be better."
Ann Bell, of Adoption UK in Wales, said some adopted children will have "significant needs".
She said: "That need has been recognised in England and they have evidence earmarking funds for therapeutic work will make a difference.
"Children in Wales are no different, so the need is clearly there."
Penny, from Cardiff, adopted her six-year-old son three years ago.
Some of the support she and her son received from the local authority which placed him, included financial support.
"When I went back to work I realised my son couldn't cope with being away from me for too long," she said.
"This meant he couldn't go to breakfast clubs or after school clubs and I needed to cut my working hours," she said.
Suzanne Griffiths, who will head up the new National Adoption Service in Wales, is confident the service will improve adoption and post-adoption support.
She said: "Assessing and approving adopters, matching children who need placements and the development of adoption support services will be coordinated on a national basis.
"We will over time end up with better services and more consistent services, so that no matter where you live in Wales you should be able to expect to have the same support and service."
There is evidence working together can achieve results without additional monies.
Four years ago some local authority adoptions teams merged, creating the North Wales Adoption Service.
'Research'
Following that amalgamation the number of approved adopters increased by 41% to 38 in 2013-2014, while the number of adoptions rose by 64% in the same year to 46.
The new National Adoption Service in Wales launches on Wednesday 5 November.
The Welsh government said research had shown issues around adoption support and adoption disruption needed to be addressed.
But it said the new service would decide how those issues will be prioritised and where funds will be allocated.