Private palliative and social care providers face scrutiny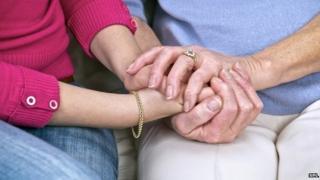 People receiving privately-arranged social services and palliative care services in Wales will be able to file complaints under new rights.
Previously, the Public Services Ombudsman for Wales has only had powers to investigate such services provided by a council or local health board.
But changes to the law made by the Welsh government mean private providers can now be scrutinised as well.
About 75% of the 32,000 people who die in Wales annually have palliative care.
A survey published on Tuesday showed families and patients rated palliative care services 9.56 out of 10.
It comes after Marie Curie Cancer Care called for dying patients to have more of a say about their care earlier this year.
Health Minister Mark Drakeford said: "Extending the remit of the Public Services Ombudsman for Wales to cover privately arranged or funded social care and palliative care services is a significant enhancement for citizens and will contribute to our overall objective of improving care and support for all people.
"These new powers clearly demonstrate that everyone who makes a complaint about care they receive has a right to be listened to and have their concerns addressed effectively."