Planning laws 'need to protect Welsh language'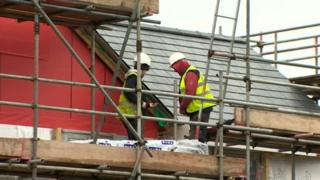 New planning laws fail to include protection for the Welsh language, a council leader has claimed.
Ministers hope to speed up and simplify rules for building new homes.
But Carmarthenshire leader Kevin Madge said councils should be required to consider the impact on the Welsh language, with the population speaking it falling below 44% in his county.
The Welsh government said it had received a letter from Mr Madge and would respond to it in due course.
The Planning Bill, unveiled earlier in October, was intended to "strengthen and modernise" the planning process to boost the economy and deliver "the homes, jobs and infrastructure that Wales requires", the Welsh government said at the time.
'Disappointing decline'
However, Mr Madge has written to Carl Sargeant, the minister responsible for planning, saying Carmarthenshire council was disappointed not to see any detailed provision to consider the Welsh language in the planning process.
Language campaigners and some local authorities have claimed that large housing developments can have a big impact on the nature of small communities, particularly those where the Welsh language is prominent.
Results from the 2011 Census showing a decline in the number of people speaking Welsh in traditional strongholds such as Carmarthenshire and Ceredigion have fuelled their concerns.
Pointing to the "disappointing decline" in Welsh speakers, Mr Madge wrote that "stronger guidance and direction" was needed at a national level to help councils make planning decisions "which support the future sustainability of our bilingual communities".
He said councils should be required to measure and limit the impact of developments on the Welsh language nature of communities, and the government should rethink the way it assesses the number of new homes needed in each local authority area.
Jamie Bevan, chair of the Welsh Language Society (Cymdeithas yr Iaith Gymraeg), supported the letter from Carmarthenshire, saying the prosperity of Welsh language communities was "vital for the health of the language right across the country".
"We need the legislation to be based on local needs, with the Welsh language as a central statutory consideration."