Wales' £2bn EU structural funding deal formally agreed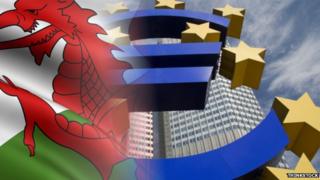 A deal for Wales to receive £2bn in European aid between 2014 and 2020 has been formally agreed.
The next stage will be for a decision to be made on the priorities for the cash as the money is invested in some of the poorest parts of the country.
It is the third time in a row that Wales has qualified for what is called "structural funding".
This latest amount has to be used by the Welsh government for long-term sustainable economic growth and jobs.
The money is given to areas where the value of what is produced is three-quarters or less of the EU average.
But there has been criticism from the Welsh Conservatives that the issue of economic prosperity in Wales has not been dealt with.
Leader of the Welsh Conservatives, Andrew RT Davies, said: "Whilst this funding will be welcomed, we must not forget that it has only been granted due to the failure of successive Welsh Labour governments to improve Wales' economic performance in previous tranches.
"Back in 2000, former First Minister Rhodri Morgan described Objective 1 funding as a 'once in a lifetime' opportunity.
"Well here we are again, and under Welsh Labour parts of Wales remain amongst the poorest areas in the EU, never mind the United Kingdom."
Nick Servini, BBC Wales political editor
What happens next is a committee which monitors how the money is spent will meet next month and it will decide the overall priorities which civil servants should be guided by when they deal with every application that comes in over the next few years.
This is certainly no cause for celebration, the fact that Wales has got this third round of funding.
If you go back to the year 2000 and objective one funding, the first minister at the time, Rhodri Morgan, was talking about this as being a 'once in a generation' opportunity.
Yet here we are, 14 or 15 years later and Wales is one of just a handful of places across the EU that is still eligible for this funding because it has not lifted these communities out of the economically deprived categories that they still find themselves in."
Making 'real difference'
But Labour's Jenny Rathbone, who chairs the committee which monitors EU spending in Wales, welcomed the so-called partnership agreement.
The Cardiff Central AM told BBC Wales that this was a hugely significant amount of money and work would now have to be done on where the money should be spent.
She said: "This is big news for Wales. We're one of the first EU regions to be allocated this money.
"It's money that can make a real difference and careful thought will now have to go into making sure that it delivers the right projects across Wales."
Jane Hutt Minister for Finance said: "This is good news for Wales and this new EU funding will have a real impact on the Welsh economy.
"It will help us deliver more innovative and inspiring EU-funded projects."