Mercury Prize 2014: Producer David Wrench's split loyalties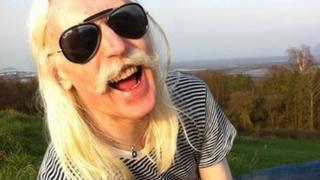 A Welsh record producer had more than a passing interest in the outcome of the 2014 Barclaycard Mercury Music prize - he worked with two of the finalists.
Anglesey-born David Wrench mixed Jungle's nominated album and also FKATwigs's debut LP1.
Wrench, producer of last year's Welsh Music Prize-winning Week Of Pines by Georgia Ruth, said the awards were important.
"It's a critical seal of approval on an album," he said.
DAVID WRENCH - MUSICIAN, MIXER, PRODUCER
Engineer on the Mercury prize-nominated Two Suns by Bat For Lashes in 2009, and also for Everything Everything and Beth Orton.
Won the BBC Radio Cymru C2 Producer of the Year award five times
A keyboard player himself, he started in Nid Madagascar, a Welsh language acid house band in the late 1980s while still at school
Played in Julian Cope's group Black Sheep
Has released three solo albums, one produced by Cope. Music has ranged from folk to electronic.
Producer for Euros Childs, Race Horses, Jackie Leven and Kathryn Williams
There were a total of 12 acts up for the £20,000 Barclaycard Mercury Prize, which was won by Glasgow hip hop act Young Fathers.
Wrench worked with FKATwigs, alias Taliah Barnett, already one to watch in BBC's Sound of 2014 list, and he said she was "unlike anything else I've ever seen - she's quite unique."
He also worked on the debut album from fellow Londoners Jungle - a synth-pop/funk duo who initially kept their identities secret as they wanted their music to do all the talking.
"With mixing albums, they arrive with me, they've been pretty much recorded - I've got to make them sound good, polish them and get the overall sound and direction right at the last stage," he said.
As for the prize, he said it helped artists get the attention they might not otherwise get.
"There have been some ground-breaking and innovative albums in the past that have won," he said.
"It's a good list this year - and it's useful for bands to get on the list who wouldn't normally get covered. It draws attention to interesting albums that may not otherwise get so much media attention."