How does Wales help power the UK?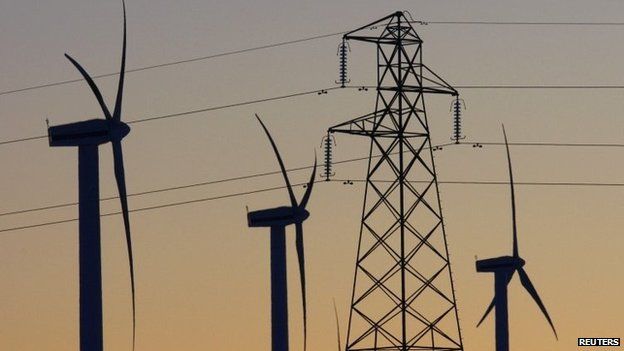 The clocks have been turned back and the nights are drawing in. Across Wales fires are once again being lit and the heating is being turned back on.
But with the onset of winter comes a warning from the National Grid that its capacity to supply electricity in the months ahead will be at a seven-year low due to generator closures and breakdowns.
Fears of possible electricity blackouts have been dismissed by energy minister Matthew Hancock, but there is a worry that energy prices could be forced up.
So what does it all mean for people living in Wales?
In short, we're all in this together.
While Wales produces plenty of energy from its natural resources - think nuclear and wind, as well as gas and coal fired power stations, and hydro-electric plants - the vast majority feeds into the National Grid, which provides electricity for the whole of the UK.
Any power warnings issued also apply to Wales.
What energy is generated in Wales?
For a country famous for mining, coal is no longer king.
Since 2008, there has been a general fall in the amount of electricity generated from coal, when the country was experiencing an economic downturn, according to a Welsh government report, Energy Generation and Consumption for Wales 2011, which was published last year.
Instead, gas, such as liquefied natural gas (LNG), now generates the most electricity - 10,670 gigawatt hours (GWh) in 2011, the most recent figures published by the Welsh government. That is the equivalent of the annual consumption of around 2.5m British homes.
Renewable energy is a growing area in Wales, with the amount of electricity generated by wind, hydro and solar power steadily increasing.
According to the report 2,200 GWh was generated in 2011 by renewable sources, which is more than double that in 2004 (1,000 GWh).
This is higher than the percentage generated in England but slightly lower than that of the UK average (9.4%).
More than 20 large fields of solar panels have opened since August 2011 with 40 more being built or planned.
Tidal energy farms and underwater turbines are also being set up off the coasts of Pembrokeshire, Anglesey and Swansea Bay.
And across Wales large wind farms have become common sights.
How does Wales help power the rest of the UK?
Wales is a net exporter of the electricity it generates.
England, on the other hand, imports electricity from Wales, Scotland and from continental Europe.
This means that Wales exports electricity generated in the country to consumers elsewhere in the UK.
That is because Wales generally has more generation capacity than it requires while England generally has less.
In total, the proportion of the UK's electricity generated in Wales was 7.4% in 2011, the Welsh government report says.
Wales also has a hydro-electricity plant which can be used to help bolster the National Grid's power supply during times of peak electricity demand.
The Dinorwig storage power station - otherwise known as Electric Mountain - stores water at a high altitude reservoir in Snowdonia and it is discharged through turbines when electricity is needed.
How much energy do residents in Wales use?
Energy use in Wales has been falling since 2005, however the decline has been sharper from 2007 onwards.
As a result overall energy consumption fell to a low of 97,900 GWh in 2010.
The Welsh government says the downward trend may be affected by the economic downturn.
It said it is also possible that improved energy efficiency measures may have had some impact in more recent years, although it is not possible to separately identify the impact of these factors.
Related Internet Links
The BBC is not responsible for the content of external sites.