First Minister Carwyn Jones 'not afraid' of Wales NHS scrutiny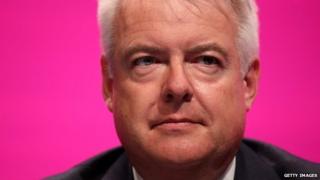 First Minister Carwyn Jones has told the BBC he is not afraid of scrutiny of the Welsh NHS.
On BBC Radio 4's Any Questions, he said Wales will participate in a study of the UK's different health services.
The independent think-tank, the Organisation for Economic Co-operation and Development, will carry it out.
Health Secretary Jeremy Hunt has urged the Welsh government to take part and its findings to be published before the general election.
But Mr Jones said an agreement between the four governments has been broken by the Department of Health.
Mr Jones told Any Questions: "There will be an OECD survey.
'Not afraid'
"We've never said we wouldn't have it.
"The question is that there was an agreement between the four governments as to the way in which those reports would be handled and the Department of Health decided to break that agreement.
"We're not afraid of scrutiny, by any stretch of the imagination.
"I'm not going to pretend to you that everything is sweetness and light in the health service in Wales, or in England, Scotland or Northern Ireland, that wouldn't be sensible.
"We will have the OECD in, but we can't have the OECD in on terms that are set by the Department of Health."
The state of the Welsh NHS, which has been under particular scrutiny following a series of articles in the Daily Mail, dominated Any Questions, which was broadcast from Brecon on Friday.
Plaid Cymru AM Rhun ap Iorwerth said although he felt the Daily Mail coverage was politically motivated, the NHS in Wales is "facing problems that the Welsh government is not facing up to".
He said the government in Cardiff Bay must tackle problems in areas such as recruitment and diagnostic tests.
'Honest culture'
"The Welsh government must accept the problems and put a strategy in place.
"We need a diagnostic look at the state of the NHS in Wales," Mr ap Iorwerth said.
In response, Carwyn Jones acknowledged there are "issues" in the Welsh NHS that "need to be dealt with, but insisted that the problems are not unique to Wales, and that most patients get "excellent care".
The Conservative MP Bernard Jenkin who was also on the panel criticised Labour for "resisting" an inquiry into the health service, but said the NHS should not be a "political football".
"We have to have a much more open and honest culture about healthcare," he said.
"I believe Jeremy Hunt is promoting that culture.
"We ought to have much more cross-party co-operation (on the NHS) rather than fighting".