Questions over Welsh ambulance delay for fire victim, 3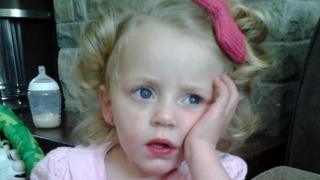 The family of a three-year-old girl who died after a house fire are demanding to know why an ambulance was not available to help her.
A police car had to take Angel Smith to hospital after it took an ambulance over half an hour to reach the fire in Carmarthen, their MP Simon Hart said.
The Wales Ambulance Service said it had investigated what happened on 15 June.
It comes as the new head of the service said there was "no imminent fix" to the problems faced across Wales.
Interim chief executive Tracy Myhill spoke out as it emerged that ambulances have continued to miss the target for 65% of high priority calls to be reached inside eight minutes.
It has been missed for two years, with September's figures showing a slight improvement up to 58.9%.
Now, Mr Hart, MP for Carmarthen West and South Pembrokeshire, is demanding answers on behalf of Angel's family about the "totally unacceptable" situation.
The three-year-old died after the fire, which happened on the first anniversary of her brother Jake's cot death.
Neighbours called emergency services after spotting black smoke billowing from the house in Bryn Gorwel.
Angel and her mother, Alice Smith, were rescued by firefighters, while the girl's father jumped from a window.
Ambulances off duty
Mr Hart said several people spent more than 20 minutes attempting to revive Angel while they waited for an ambulance to arrive.
She was eventually taken to Glangwili Hospital in Carmarthen by police officers but was later transferred to the University Hospital of Wales in Cardiff where she died.
The MP has now obtained figures from Dyfed-Powys Police which show that in the five months from April to August this year, police had to take casualties to hospital 68 times.
The MP also said he had discovered that three of the six ambulances in south west Wales were off duty at the same time on the day of the fire.
In a letter to Mr Hart, the former chief executive of the Welsh Ambulance Services NHS Trust, Elwyn Price-Morris said a "fulsome" investigation had been carried out.
Mr Price-Morris, who stood down from his post last month for health reasons, said that the trust was reviewing the "coding" associated with house fires after it emerged that the call from Bryn Gorwel was not classified as 'Red' (life threatening) in the first instance.
His replacement Ms Myhill has now spoken out about the problems facing the ambulance service.
Speaking to BBC Radio Cymru's Manylu programme, Ms Myhill said targets rightly focused the mind and the emergency target had received a lot of attention.
She said: "There's a huge focus on the one target - but my own view is until we can satisfy people we are continuing to improve that target, it's hard to talk about other things."
She added: "It's a do-able target. It's not an imminent fix, it's a really complex system."
There is more on this story on Manylu, BBC Radio Cymru Thursday 23 October, 12:30 BST.