World War One: Brig Gen Hubert Conway Rees who met the Kaiser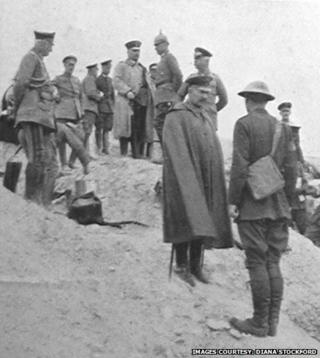 The tale of a World War One officer's chance encounter with German emperor Kaiser Wilhelm II has come to light.
Captain Hubert Conway Rees of the 2nd Battalion The Welsh Regiment managed to survive the fierce Battle of Gheluvelt near Ypres a century ago.
The Conwy officer then met the Kaiser after being taken prisoner as a brigadier general in 1918.
His descriptions and hand-drawn battle maps have been made available online. by the National Army Museum.
Brig Gen Rees was born in 1882, the only son of the local Conwy vicar, Canon Henry Rees and his wife Harriet Rees.
He was already a veteran of the Boer War, when he served in WWI and was promoted from the rank of captain in 1916.
'Somewhat shaken'
The Battle of Gheluvelt at the end of October 1914 saw 95% of the 1,200 men fighting with Rees killed or wounded.
But his diary entries demonstrate the British quality of stiff upper lip.
He describes one barrage of German rifle fire as "getting rather trying".
In another he calmly details how "a shell burst in front killing Moore on my left and mortally wounding Colonel Morland on my right".
Though at stages even the then Capt Rees' resolve is tested, as he confesses to being "somewhat shaken" when he discovered that "the stock of my rifle had been shot through and the strap of my water bottle cut".
However, he is frank in his assessment of how badly the war is progressing.
Writing of the battle he admits "we were annihilated" and his unit reduced to "a confused disorganised mass of men".
Brig Gen Rees was captured during the German spring offensive of 1918 and found himself being stopped and interviewed by the Kaiser himself as he was being led towards a prisoner of war camp.
He admitted to being "furious" and "humiliated" and found himself photographed with his illustrious captor.
Marrying in 1914, he had one daughter, and died aged 66 in 1948.
His tale is the fifth in the NAM's ongoing Soldiers' Stories series with First World War in Focus. It is supported by an £11.5m grant from the Heritage Lottery Fund.