Nine hospitals cancel scans as radiographers strike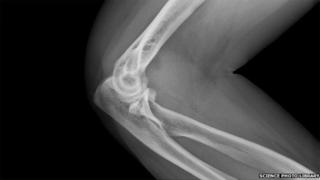 Around 550 scans and x-rays were cancelled across Wales as radiographers held a four-hour strike on Monday.
The Society of Radiographers' action over pay affected nine hospitals across the country.
No urgent or cancer scan cover was affected, but routine appointments were rescheduled.
Health boards said they were doing everything they could to minimise inconvenience and were offering alternative appointments.
There were pickets planned at a number of hospitals including some in Cardiff, Swansea, Newport, Aberystwyth, Wrexham and Bangor.
Richard Evans, the Society of Radiographers' chief executive officer, said they welcomed general election pledges by the Labour Party to deliver cancer diagnoses in seven days, but that it was unlikely such a target could be met without "substantial ongoing funding".
He added: "Demand for diagnostic services is rising by 10% year-on-year but the workforce required and the investment in new equipment is not keeping up with the number of patients who need and expect these services."