'Fairer look' call over transport in north Wales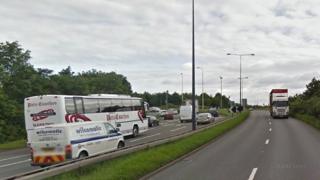 North Wales deserves a "fairer" deal on transport investment to boost business and the economy, politicians in the region are insisting.
Alyn and Deeside MP Mark Tami told BBC Wales they felt there was too much focus on roads in south Wales.
He claimed improvements in north Wales would not need "vast sums of money", compared to a £1bn M4 relief road.
The Welsh government said transport infrastructure was being improved across Wales.
Road pressures
Speaking to the Sunday Politics Wales programme, Mr Tami said: "There is concern that perhaps the focus has been on one big project in south Wales.
"What we want to see is a fairer look at some of these transport issues because I think, for not vast sums of money, you could make considerable improvements in north east Wales, and that is the manufacturing centre of Wales."
Mr Tami said rail electrification and improvements to the Bidston line connecting north Wales with England would ease pressure on the region's roads.
"People do not see public transport as something that is easy and flexible enough for them to use," he said
"We could begin to take some of that traffic off our roads and onto rail."
Alyn Ashworth, who owns a microbrewery in Denbigh and chairs the local business group, said firms were put off expanding because of poor transport connections.
"If a business in Denbigh feels like opening up in Bangor as well then getting between the two sites can be very difficult at times," he said, adding that it was also a disincentive to tourists.
A Welsh government spokesperson said: "We continue to improve transport infrastructure across the whole of Wales.
"For example, over £45m is being spent on improving the A55 and A494, we are progressing with the £100m Caernarfon to Bontnewydd bypass, and work has begun on developing options to improve roads in north east Wales.
"We are also investing £44m in increasing rail capacity between Wrexham and Chester."
Sunday Politics can be seen on BBC One Wales on Sunday 20 October at 11:00 BST.