Homeless help faces council cuts 'challenge'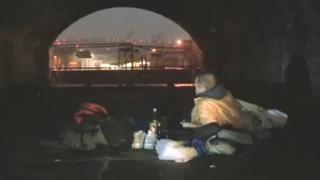 New rules requiring Welsh councils to prevent homelessness pose a "big challenge" in the face of budget cuts, housing campaigners claim.
Charity leaders and others meet in Cardiff on Friday to share ideas on how best to help those at risk.
The gathering has been organised by Cymorth Cymru, an umbrella group representing dozens of organisations.
Its director Auriol Miller said she welcomed the Housing Act but warned that support services were being cut.
She said councils were getting an extra £4.9m to prepare for the new responsibilities but were also seeing nearly £10m cut in 2015/16 from budgets earmarked for supporting vulnerable people.
"They are doing a lot of very good preparatory work but our concern is whether they can maximise the impact if the support services aren't there," she said.
Shelter Cymru director John Puzey will urge delegates to back a "substantial change in service culture" to help the new laws succeed.
He added: "People with housing problems are often forced into a 'victim' mentality, trying to prove how much they need help, rather than being given the support to resolve their problems and take control of their lives."