World War One: Boy soldier a prisoner at 15 and a hero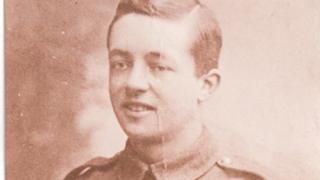 A century since the outbreak of World War One, the sacrifice made by those who fought for their country will be remembered in services across the country.
BBC Wales has been taking a look at the stories of the boy soldiers from Wales.
At three years old, doctors in the Rhymney Valley feared Roy Makepeace was too weak to live very long. But by the age of 15 he had joined the Army to fight the Germans in World War One.
The Barry-born teenager was one of the estimated hundreds of boys from Wales who enlisted under age.
Private Royal Victor Nash Makepeace's war - and indeed his life - was a colourful one:
He pleaded with his parents to be allowed to join up in October 1914 and his father George, a railwayman, drove him to enlist in his Model T Ford.
He was ambushed and held prisoner by the Germans in December 1914 while fighting in Africa - where his family had emigrated. After seven months as a prisoner of war, he was released and his telegram to his parents was: "Coming home. Going Europe next."
He fought in Egypt and then to the Somme in France, when aged 16 he was one of few men in his brigade to survive the Battle of Delville Wood.
He won the Military Medal in the October for capturing six German soldiers in a trench armed only with a "stout stick" and a smattering of German. His colonel called him a "priceless youngster" and the award was presented to him by King George, who asked his age. His heroism exposed his youth and led to him being thrown out of the infantry two days later and sent back to the UK.
He visited Welsh family in Fleur-de-Lis, Rhymney Valley, at the age of 17 and was presented with a gold medal for his heroics
Still not done, he resisted attempts to get him to work as a signaller in Morse code but instead managed to join the Royal Flying Corps and was shot down on his first flight over the lines in France. He ended the war with a rank of lieutenant, aged 19
In letters home from the Somme, Roy describes vividly the ferocity of the German artillery in the Battle of Delville Wood in the summer of 1916.
He wrote how 1,500 men holding up 13,000 Germans was "beyond comprehension."
Afterwards as one of 140 survivors from 3,000 in his brigade, his helmet had two holes from shell fragments and he was "about done, physically and mentally".
"There has never been a bombardment in the history of the world that was as intense as that," he wrote.
The 12 solid hours of artillery shelling was "a representation of hell".
"The Germans turned every available gun they had on a bit of wood".
There was also close fighting and Roy wrote how "I took my share," killing seven.
He also came across a wounded German whose dying wish was for some water. As he retrieved a water bottle from a dead body, the enemy soldier had taken Roy's rifle and was about to shoot him. Roy wrestled the gun from him and described how "I drove the bayonet through his chest three times".
After the war, Roy went on to have a distinguished career in the airport business in South Africa, as well as a key aviation role there during World War Two.
His son Roy Jr described his father in civilian life as forthright, imaginative, a conservationist, a disciplinarian and a joker.
"He was a man of action, good looking, debonair, extroverted, a daredevil pioneer aviator, a lady-killer and womaniser," he wrote in tribute. "Men either worshipped him or hated and feared him."
Roy died in England aged 87 but his ashes were scattered at The Knap in Barry, not far from Evelyn Street where he was born in March 1899.