Panel fails to appoint new Welsh children's commissioner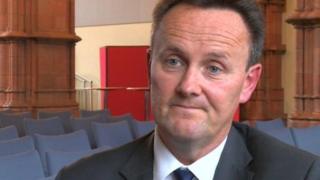 A panel has failed to agree on the appointment of Wales' next children's commissioner, BBC Wales understands.
The closing date for the job was mid May but, after a series of interviews, candidates were told no decision had been made.
However, the Welsh government said the reason the selection process had been halted was because of the recent cabinet reshuffle.
Current commissioner Keith Towler leaves the role in February 2015.
Applicants undertook a number of interviews, including one in September conducted by assembly members and young people.
Three people were shortlisted to succeed Mr Towler, who has been in the position for seven years.
Speaking about his replacement, Mr Towler said: "The responsibility for recruiting the next children's commissioner for Wales rests solely with the Welsh government.
"For now, our priority is to complete the current post holder's ambitious work plan promoting and protecting children's rights and welfare.
"And prepare as best we can to welcome the new commissioner into post on 1 March 2015."
Services threat
One of the candidates to replace him, Helen Mary Jones, pulled out of the process on Monday after being nominated as the Plaid Cymru candidate for Llanelli in the 2016 assembly election.
Responsibility for endorsing the appointment moved from Jeff Cuthbert to his replacement as minister for communities and tackling poverty, Lesley Griffiths, last month after a Welsh government reshuffle.
She said the reason for re-starting the selection process was purely because of the reshuffle.
"In normal circumstances for regulated public appointments where a change of minister happens, as in this instance, the Office for the Commissioner on Public Appointments has confirmed the appointment process would need to start again," she said.
"Whilst the appointment of the children's commissioner is not a regulated public appointment, we have followed the same principles as for a regulated appointment.
'Part of the process'
"After careful consideration, I have decided to continue to follow the principles for public appointments and to begin the appointment process again from the start.
"Given the importance of the role of the children's commissioner and my lead role as minister with responsibility for children, this will also provide me with an opportunity to be part of the process from the beginning."
She went on: "In making this decision, I have, of course, taken into consideration the candidates who had already progressed through the current appointment process and how this decision impacts on them.
"My officials have been in contact with them to inform them of my decision, and to thank them for their candidature and patience whilst I have considered the way forward."