Students in Wales advised of organ donor law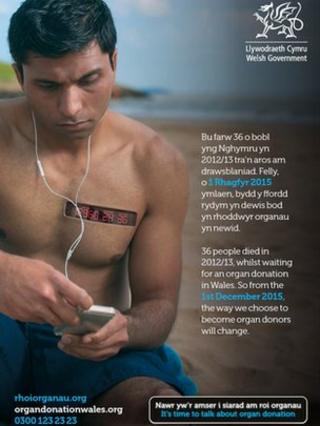 New students arriving in Wales are being advised that they will be subject to the planned changes to the organ donation laws from next year.
Posters are going up at campuses and on trains in the latest round of the Welsh government's publicity campaign.
From December 2015, Wales will move to a system of presumed consent, where people will actively have to register if they do not want to donate organs.
It will affect anyone resident in Wales for more than 12 months.
Adverts are being rolled out across Arriva Trains Wales services and at university campuses.
It follows a series of TV adverts in the summer to raise awareness.
The government hopes the change will increase transplant rates by 25% and that the campaign will get people talking about donation and their families' wishes on the subject.
Last year, 36 people in Wales died while waiting for a transplant organ, ministers said.
Easy decision
Dave Starling from Cwmaman made the choice to become a living donor when his nephew was struck with a rare auto-immune disorder which led to him needing a kidney transplant.
The 59-year-old gas engineer was tested along with 12 family members who volunteered to donate a kidney, and despite not being a blood relative Mr Starling proved to be a good tissue match for his nephew Ryan Davies.
The operation took place in May 2013 and both have made a good recovery, with Mr Starling carrying out a sky dive to celebrate the first anniversary of the operation.
He said: "The decision to donate one of my kidneys was an easy one to make although I know what a major operation it is. I did have to take four months off work and I do tire quicker than before but that's a small price to pay to see my nephew get his life back.
"He and I are living proof that living donation works and there is no need to be scared about it.
"I can live the rest of my life knowing I have helped to save the life of another. That's my reward."