More waiting for NHS treatment in Wales, figures show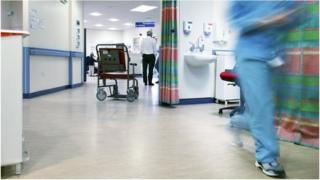 The proportion of people in Wales waiting longer than 26 weeks for hospital treatment has increased, figures show.
The Welsh government's target is for 95% of patients should receive treatment within that time after being referred by their GP.
In August just 86% were treated within that time, down from 87.2% in July.
The Welsh government said ministers want to see performance improving.
The figures also show more than 20,000 patients had to wait more than nine months (36 weeks) for treatment, despite the Welsh government saying no-one should wait that long.
'Staff on holiday'
The overall trend over the past two years shows a general deterioration in treatment waiting times.
A Welsh government spokesperson said: "Nearly nine out of 10 patients are seen within the target time, while the standard wait at the end of August 2014 was less than 11 weeks.
"Performance in August is often lower than July due to both staff and patients being on holiday.
"The deputy health minister is meeting with the chairs of all health boards to discuss referral to treatment times and other aspects of performance."
Tim Havard, from the Royal College of Surgeons said: "It is worrying that more than 20,000 patients had to wait more than nine months for treatment in Wales.
"However, it is encouraging that the number of people waiting for cardiac surgery in Wales is decreasing, and the college has highlighted this problem throughout the past year.
"We are committed to helping the NHS to deliver high quality care to patients where and when they need it."