Hepatitis A outbreak investigated in three children in Cardiff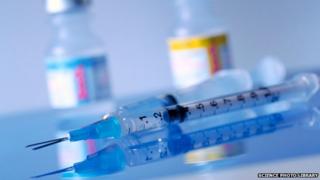 Public Health Wales is investigating an outbreak of hepatitis A in three children from Cardiff.
The children attend three different schools but there is no evidence at the moment of further transmission within the schools.
One case is known to have acquired the infection outside of the UK, say health officials.
Vaccination is being offered to around 20 close contacts of the three children who may be at risk.
A vaccination session will be held at 09:30 BST on Friday in the Loudon building, Loudon Square, Cardiff.
Only those who have been invited need attend.
All three schools, which are not being named, have received advice on the control and prevention of infection.
Hepatitis A facts
An infection of the liver caused by the Hepatitis A virus.
Anyone can be infected with Hepatitis A. A large number of people who become infected contract the virus abroad.
The virus is excreted in faeces and can be passed onto people when something contaminated (e.g. food, water) is put in the mouth.
Tiredness, general aches and pains, headaches and fever are among the symptoms, as well as loss of appetite, nausea or vomiting, abdominal pains, jaundice, very dark urine and itchy skin.
Complications are rare. Most people make a full recovery within two months. The illness can be more severe in people over 50.
Anyone infected needs to be assessed by a doctor. There is no specific treatment. Alcohol should be avoided.
Source: Public Health Wales
Information about hand washing and disinfection is also being provided by environmental health officers.
Cardiff and Vale University Health Board and Cardiff and the Vale of Glamorgan councils are also investigating the outbreak.
Short-term infection
Public Health Wales said it was "confident" that all actions needed to control the outbreak had been taken.
Dr Gwen Lowe, Consultant in Communicable Disease Control, said: "Hepatitis A is usually a short-term infection that has very unpleasant symptoms but is rarely serious.
"People are advised to contact their own GP or NHS Direct Wales on 0845 46 47 if they have any concerns about their health or their child's health."
Hepatitis A vaccination is not routinely offered on the NHS as the infection is rare in the UK, with only 13 reported cases in Wales in 2012.