Free flu spray rolled out for four year olds in Wales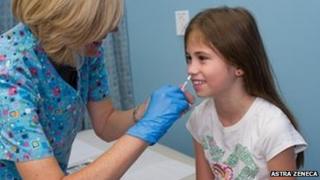 Four-year-old children have been included in the free flu immunisation programme in Wales for the first time.
The annual campaign is being launched by Health Minister Mark Drakeford at his own surgery in Cardiff.
The free jabs for older children and nasal sprays will be given to two to 16 year olds over the next few years.
Volunteer carers will also qualify, joining the over 65s, pregnant women and people with long term health conditions.
Last year, two thirds (68.3%) of pensioners had their winter vaccination but only half (51.1%) of people in "at risk" groups under 65 with long term illnesses, protected themselves.
This led to worries by doctors that people were left vulnerable.
Public health officials said between October 2013 and May 2014, more than 5,000 flu cases were reported from GPs, there were 170 hospital cases - 32 of whom were treated in intensive care.
Dr Richard Roberts, head of the programme at Public Health Wales, said: "Each year the flu bugs circulating and causing people to be ill change, so even if you had the vaccine last year you must have it again now - because the old one will no longer protect you."
Most free NHS flu vaccines are given by GPs but are also available in some community pharmacies.