Compulsory English and maths 'until 18' call by business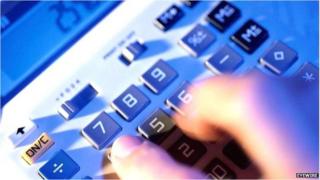 Business leaders in Wales have called for maths and English to be compulsory subjects for all post-GCSE pupils who stay in education until they are 18.
A report by lobby group CBI also warned the Welsh government that while reforms were helping, the education system was still failing too many young people.
It wants industry chiefs to have a say in how qualifications are developed.
The Welsh government said its recent changes to education had been developed by working with businesses.
The report, Step Change, said it was extremely worrying that around a third of businesses in Wales expect difficulties in recruiting people with a science, technology or maths background.
The report also calls for a vocational A-level in Wales to go alongside the academic qualification.
The CBI says raising education standards must be an "economic and political imperative".
It also recommends:
More devolution of power to schools and colleges
All schools to offer separate sciences as an option for GCSE
Faster progress on implementing computing as a core subject
Greater business involvement in schools, especially in careers provision.
Emma Watkins, director of CBI Wales, said: "Too much of a focus on narrow measures, such as international league tables, sends the wrong signal.
"While they can be a useful tool, the emphasis should be on outcomes for young people, with better results in such measures a side-effect of wider improvements rather than an end point themselves."
She said head teachers and school leaders needed to feel confident to deliver "innovative learning", but doing the right things often involved having to turn their backs on what the system expected of them.
Speaking about the differences between qualification systems in parts of the UK, Ms Watkins said: "Two-thirds of employers want qualifications across the UK to be directly comparable.
"Exams flying under the same banner - such as GCSEs and A-levels - must be equally rigorous and valued, otherwise employers will lose confidence in the qualifications system and we risk holding some young people back."
A government spokesperson said: "We are working hard to improve education standards in Wales and our ambition to provide young people with the skills they need to succeed in the workplace is right at the heart of this work.
"Our improvements have followed close working with the business community in Wales and we have been pleased with the welcome they have given to many of our reforms."