Tests 'undermining pupils' confidence' says union Ucac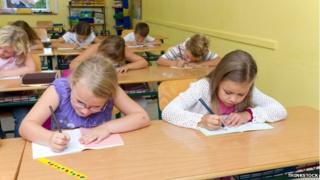 A Welsh teaching union has raised concerns that annual tests are undermining the confidence of pupils.
The reading and maths tests are given to seven to 14-year-olds every year to monitor their progress throughout their pre-GCSE education.
A survey for the union Ucac, which represents Welsh teachers, found members wanted tests scrapped for Foundation Phase seven-year-olds.
The Welsh government said the tests were fundamental to raising standards.
Ucac asked its members for their opinions following the second round of the numeracy and literacy tests in May this year.
It found members had a "strong feeling" the tests were not suitable for children in the Foundation Phase, the Welsh government's play-based learning curriculum which covers children aged three-to-seven.
The feedback said the tests were "not in line with the methodology and philosophy of the Foundation Phase" and undermined children's confidence and discouraged them.
'Discouraging experience'
Teachers also reported the tests had too much work to be completed within the time limits, particularly for primary school age children.
One said: "I feel for the children, particularly the less confident ones. It destroys their self-confidence to sit an examination at seven years of age."
Another said: "I have a class which includes many children who are good at mathematics, but they were working 'flat out' for the whole of the time right up to the last minute. They had no chance to check their work."
The union's report made several recommendations, including:
scrapping Foundation Phase tests altogether
starting with easier exam questions and increasing difficulty as the test goes on
external marking
better balance between work given and test length
releasing results earlier
The recommendations followed strong views expressed by teaching staff on other aspects of the testing regime.
The report found that some felt that the tests were too challenging for the weakest children and those with additional learning needs.
The content and the layout of the tests were also criticised, including a lack of easier questions to start with, which made it a "very discouraging experience for less able children who are demoralised from the beginning".
A Welsh government official insisted that the exams were "fundamental to raising standards in Wales".
"The best way to ensure learners make regular progress is to make sure they never fall behind," said the spokesperson.
"This can only be achieved through rigorous monitoring and assessment of a pupil's progress which is why we introduced our reading and numeracy tests."