Cardiff sex trafficking accused 'friend' to alleged victims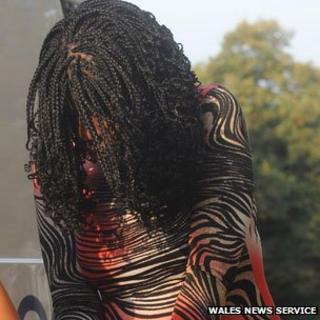 A woman accused of trafficking two women to become sex workers has told a jury she had nothing to do with bringing them to the UK from Nigeria.
Lizzy Idahosa, 24, denied making them work as prostitutes to pay back £50,000 each for bringing them to the country.
She told Cardiff Crown Court she had become friends with the women in Guildford, Surrey while working as a prostitute herself in 2010 and 2011.
Ms Idahosa denies seven charges including trafficking for prostitution.
Her partner Jackson Omoruyi, 41, denies three charges of inciting the women to become prostitutes and transferring criminal property.
It was claimed the Nigerian women in their 20s, who cannot be named for legal reasons, were put through "witchcraft" ordeals to ensure they obeyed.
They claim they had to drink dirty water, eat a snake or snail, and had their hair shaved.
The trial has heard the "juju" ritual - sometimes known as voodoo or magic - left them fearing illness, madness, infertility and death.
The women have told the court they were forced to work as prostitutes at brothels including in Cardiff and Swansea.
As the defence case opened, Ms Idahosa told the court she left Nigeria in 2008 and had no involvement in any ritualistic juju ceremonies involving the two women.
Cash payments
She said she knew about marks being made on people when they were babies, which helped people identify where in Nigeria they were from.
Ms Idahosa told the jury that marks were made on the bodies of both sexes and that she herself had similar marks on her body - on her chest, back and legs.
She said that she knew the women but by different names than those which had been used in court and only met them, separately, in the south of England.
And she denied telling one of the women that she had to pay her £50,000 to pay off their debt for her bringing into the country.
Ms Idahosa told the jury: "Why would she have to pay me that - I didn't bring her into the country?"
She said that both of the women had given her money in order for her to send the money back to Nigeria to their respective families.
Ms Idahosa said she did that through a shop in Barking in London last year and other cash payments made into her account would have been made by her former boyfriend who sometimes came to Wales.
The trial continues on Tuesday.