Nantymoel drawing pin cycling saboteur hunted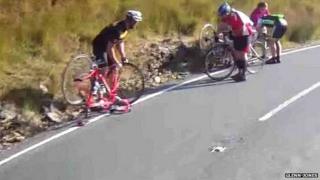 A saboteur is being hunted by police after leaving hundreds of drawing pins on a cycle route, puncturing the tyres of more than 70 bikes.
The vandal dropped the tacks painted black on a downhill stretch of road near Nantymoel, Bridgend county, just before a hairpin bend.
Cyclists were travelling at speeds of over 40mph (70kmph) during the Valleys Velo Sportive.
People taking part said the act could have badly injured or killed someone.
Cyclist Richard Manning, 46, said: "I only hope that the culprits are caught and that their punishment is enough to dissuade others from this.
"The placement of these drawing pins on a really fast descent, just before a hairpin bend can only lead to the conclusion that the saboteur was hoping to cause serious injury - or even death.
"Add to this painting them black to camouflage them on the road shows a level of planning I find deeply distressing."
The saboteur spread the drawing pins on a "fast descent" just before a 180 degree hairpin bend.
More than 70 cyclists had their inner tubes punctured by the spikes although no-one is thought to have been injured during the competition on Sunday 28 September.
'Training and effort'
Event marshals swept the course and most of the riders were able to finish the sportive.
Rider Gary Dawes added: "Black painted drawing pins scattered as sabotage on a fast descent is nothing less than attempted murder."
Police are working with race organisers to investigate.
Organiser Jamie Rowland said: "I couldn't believe it when I first received the call to say what was happening.
"My heart sunk thinking of the riders and their safety who were unfortunately caught up in the unfolding events, all their training and effort undone by some mindless idiot."