BMA doctors critical of Carwyn Jones's NHS inquiry views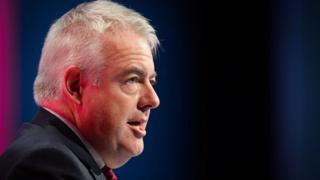 A doctors' union says the first minister's response to its calls for a Wales NHS review "beggars belief".
The British Medical Association has accused Carwyn Jones of dismissing its plea and basing his arguments on the opinions of "former college chums".
Last month Mr Jones told AMs that the BMA demands were inconsistent and none of his former medical student friends supported an inquiry.
The Welsh government said it was "mystified" by the BMA outburst.
It follows the BMA calls for a full-scale independent investigation into all areas of the NHS in Wales.
The body's criticism of the first minister comes in a letter signed by nine senior BMA doctors, and sent to assembly members.
They write: "It is saddening, at a time when many would have turned to the first minister to show leadership in these circumstances, that what emerged were some old-fashioned political tricks designed, but ultimately failing, to deflect our underlying message.
"The first minister implied that BMA Cymru Wales isn't representative of ordinary doctors.
'Flurry of letters'
"It beggars belief that a view expressed by a handful of the first minister's former college chums (not necessarily an impartial group) is somehow perceived to have greater validity than the collective view of doctors captured through our extensive democratic structures in Wales."
Plaid Cymru said the row was a "new low point" for the first minister in his relationship with doctors in Wales.
The Conservative leader in the assembly, Andrew RT Davies, said the BMA letter was "extraordinary" and "paints a picture of a first minister of incomparable arrogance and complacency".
But responding to the letter, the Welsh government said it was "genuinely mystified" about what BMA Wales was trying to achieve "through this flurry of open letters".
"Patients and doctors alike will be confused by this aggressive approach, particularly in a week when the NHS in Wales received an additional £425m funding," said a government official.
"It would be in the best interests of doctors and the Welsh NHS as a whole if the BMA's leadership put away its green ink."