Port Talbot boxing champion Thomas Hoar dies from cancer at 22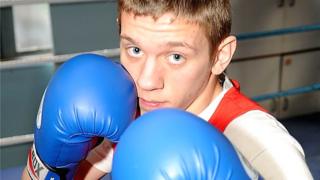 A young boxing champion hailed as a star of the future has died aged 22 after losing his fight against cancer.
Thomas Hoar, of Port Talbot, died almost two years to the day after winning his first professional fight.
The light-welterweight underwent chemotherapy after being diagnosed with cancer of the lymph glands.
His wife Demi, 21, who he married a year ago, was said to be "heartbroken", while boxing experts said they were shocked by his death.
They said the former Welsh title holder would have been a big star in the future.
Boxing pundit Dewi Powell said: "I was shocked that Thomas was so ill at such a young age and when he looked the picture of health.
"He was an elegant boxer and a quiet young man who had an inner peace about him.
"Thomas didn't get involved in the ego that you associate with boxing. He didn't need to, he was all about skill and control, both in the ring and out of it."
Mr Hoar's funeral will be held on Monday.