Welsh National Opera's 70th anniversary plans unveiled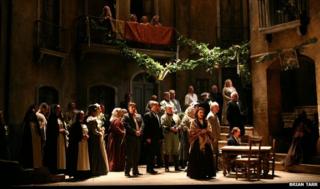 Two new operas will celebrate Welsh National Opera's 70th anniversary.
The final part of the comedic Figaro trilogy, based on the character featured in operas by Mozart and Rossini, will debut in spring 2016.
In Parenthesis, based on the World War One poem by David Jones, will follow in the summer.
Director David Pountney said WNO was offering "a rich and stimulating programme" despite tightening financial circumstances".
The final act of Figaro, composed by Russian-born Elena Langer, takes inspiration from two plays which continue the lives of characters from classic operas The Barber of Seville by Rossini and The Marriage of Figaro by Mozart.
The three parts will all be performed by WNO in spring 2016.
War poet
In Parenthesis follows the character of Private John Ball who embarks upon a journey into war.
It is based on a poem by David Jones, who served with the Royal Welch Fusiliers on the Western Front, surviving the war to become a renowned modern poet and artist.
The new opera will debut in Cardiff, then head to Birmingham before appearing at the Royal Opera House in Covent Garden to coincide with the 100th anniversary of the Battle of the Somme.
The new commissions will be joined by five new productions and a classic revival to make up WNO's artistic programme for 2015-16 and anniversary celebrations.
Finishing off the birthday season will be a revival of Cavalleria Rusticana and Pagliacci - the first production ever staged by WNO in April 1946.
The opera's revival will see a number of Welsh favourites return to the stage, including David Kempster, Gwyn Hughes Jones and Camilla Roberts.
Rebecca Afonwy-Jones will also return in her first guest role since being the WNO's Associate Artist during the 2013-14 season.
Mr Pountney said: "We are proud of the fact that despite tightening financial circumstances we have been able to offer a rich and stimulating programme.
"WNO remains committed to offering a balanced programme celebrating the great traditions of our genre, as well as brining innovation and renewal."
The company was founded in 1943 by a group of south Wales miners, teachers and doctors, who held their first rehearsal above a garage in Cardiff.