Pisa education target scrapping 'embarrassing' - Tories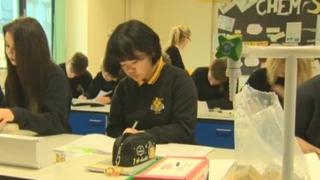 Opposition parties have accused the education minister of lacking ambition after the target to put Wales into the 20 best-performing countries in education by next year was scrapped.
Huw Lewis now wants to achieve a target of 500 points by 2021, saying it relates better to what teachers can aim for in classrooms.
Scotland has already scored over 500 points last year.
The Welsh Conservatives called it "frankly embarrassing".
Wales was around 40th out of 68 in the last Pisa international school test results for science, maths and reading released last December.
It also fell behind the rest of the UK with an average score of 468.
Mr Lewis said: "If we say to a head teacher 'we need to be in the top 20', it's very difficult to translate that into how their 15-year-olds should do at GCSE.
"But if we say 'score 500' they can measure their progress towards it."
But the Conservatives' assembly leader Andrew RT Davies said: "This is an extraordinary move and highlights the paucity of Labour's ambitions for Welsh education.
"The minister has now given himself seven years to make Wales the UK's second worst performing nation."
'Simply unobtainable'
Mr Davies said it was "one of the most depressing announcements" of recent years.
The Pisa tests in science, maths, reading were taken by 500,000 15-year-olds in 68 countries.
Although the scores for Wales were similar to those in 2010, other countries have performed better.
David Reynolds, professor of educational effectiveness at the University of Southampton and an adviser to the Welsh government, said the revised target was now "about right".
The original top 20 target was "plain stupid" and there had not been proper recognition how difficult achieving it was, he said.
"It became clear that what was an ambitious target was simply unobtainable. And all the evidence tells you that if you go for something that's utterly unobtainable it demoralises people rather than motivates them," he told BBC Radio Wales.
"It's still quite stretching with a target of 500 - we haven't realised how in Wales we've fallen behind. We've almost been in freefall in the decade of 2000s."
Prof Reynolds said Wales had "done crazy things" like stopping publishing school results when everywhere else started doing that.
The Pisa tests are run by the Organisation for Economic Cooperation and Development (OECD).
Its senior policy analyst Beatriz Pont, who was also the lead author of a report into improving schools in Wales earlier this year, said there was still "quite a hike" to meet targets in mathematics.
She told BBC Radio Wales that the overall target was now "much more realistic" and was looking long term but she said it still presented a challenge.
Deputy head of Ysgol Friars school in Bangor David Healy, who is also from the Association of Teachers and Lecturers (ATL) union, said: "What a sad state that in Wales, if that's the limit of our ambition, to be nine years behind England and Scotland by 2021?"
He told BBC Radio Wales he believed under-investment was a problem, and that equipment and resources schools in England were "in a different league".