M4 and A55 'glare risk' for drivers in October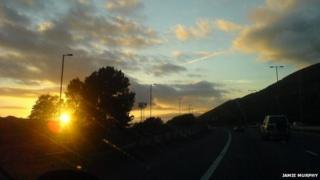 Low autumn sun glare across the M4 motorway in south Wales and on the A55 expressway in the north is a potentially lethal driving hazard, warns a motoring body.
Since 2010, an average of 28 road deaths a year in Britain are down to drivers being dazzled, said the AA
It is especially a problem before the clocks go back at the end of the month.
The AA pinpointed the south Wales motorway and the north Wales dual carriageway as particular hotspots.
Sunrise and sunset have moved into the morning and evening rush hours for the UK's commuters until the clocks go back on Sunday 26 October, the AA says.
AA president Edmund King said: "All road users need to be fully aware of the potential twilight dangers."