Britain 'best brand' for Welsh exports, survey suggests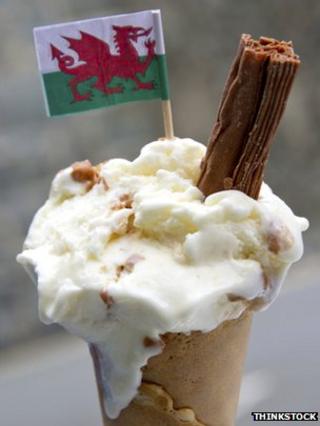 "Made in Britain" could be a bigger selling point than "Made in Wales" for Welsh exports, a survey has suggested.
One in five customers in emerging markets said a Welsh flag would attract them to a product, but the rate jumped to 64% for a union flag.
Wales was associated with tradition and value, the Barclays bank report said, but Britain was seen as a better brand.
But Meat Promotion Wales said the poll did not reflect its experience or that of firms exporting Welsh lamb and beef.
Researchers questioned 7,610 people in eight key export markets, including developed countries such as the USA, France, Germany and Ireland, and the newer markets of Brazil, China, Qatar and South Africa.
They estimated a gain of more than £2bn a year from these eight countries alone from labelling goods as British, with the USA and China offering the biggest potential boost.
Food, drink, fashion, precision tools and automotive products were among the areas in which opinions were sought.
Branding bullet points
Goods labelled "Made in Britain" commanded higher prices than those labelled for the individual nations, except for alcohol, where "Made in Scotland" was seen as a premium brand in the USA and Ireland
Emerging markets had a stronger preference than developed nations for British brands, with 31% knowingly paying more for British products compared to 14% in developed nations
At least half of those surveyed thought the quality of British products was "good", more than those who felt positive about Welsh, Scottish or English products
Young French adults will pay more for Welsh branded food than the French population as a whole
Young German adults will pay more for Welsh manufactured goods than the average German
John Union, from Barclays in Wales, said: "Welsh products are associated with tradition internationally and as such demand a premium, but the report highlights a real opportunity to use 'Made in Britain' to boost the amount overseas consumers will pay even further."
However, Gwyn Howells, chief executive of Meat Promotion Wales, said the research "does not reflect our experience or indeed, more importantly, the experience of the companies who are trading lamb and beef from Wales on a daily basis in all parts of the world".
Wales-branded red meat has a "strong story to tell to various destinations around the world", he added.