Warm Homes energy bill discount help for pensioners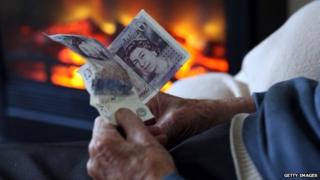 More pensioners in Wales will get money off energy bills this winter as the Warm Homes Discount Scheme is extended.
Around 112,000 now qualify, up from 94,000 last year, with the discount being increased from £135 to £140.
It comes on top of cold weather payments and winter fuel allowances, and some working age people on low incomes may also qualify.
UK Pensions Minister Steve Webb said the aim was to ensure the poorest households got the support they need.
"As we approach winter, no-one should have to go without heating because they can't afford the bills," he said.
"That's why we have significantly extended the Warm Home Discount Scheme - and increased its value - to give people peace of mind that they can keep their homes comfortable throughout the coldest months."
It has now been extended to all people receiving Pension Credit Guarantee Credit, who will see a one-off discount taken from their energy bills some time between October and March.
Working age people on low incomes or those deemed to be vulnerable may also qualify for discounts depending on the criteria set by their energy supplier.
The Department for Work and Pensions said more than two million people across the UK would now receive the subsidy, more than twice as many as qualified when the scheme was launched in 2011.