Cardiff's arcades and market 'need help'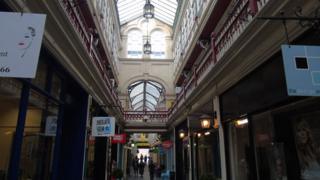 Cardiff's Victorian market and some of its famous arcades need urgent help after a decline in business in the wake of the revamp of the St David's shopping centre, a review has found.
The council looked at how independent businesses are doing after the £675m redevelopment and arrival of John Lewis five years ago.
Half arcade shops and many traders complained of a fall in customers.
There was also concern that parking charges were putting off shoppers.
The council brought in experts as part of the review whose findings include:
Arcades in the Morgan quarter have experienced increased footfall with 100,000 shoppers passing through due to the St David's and John Lewis development
But arcades at the Castle end have only a "fraction" of this with some traders saying if it gets any worse they will have to move.
Market traders and some arcade business have been slow to embrace e-commerce and social media.
Arcade businesses are split over whether to open later than 5.30pm.
Some who originally supported the pedestrianisation of St Mary Street now want to re-introduce some buses or taxis there alongside better promotion of the Castle Quarter.
A survey found 71% of city centre shoppers found parking too expensive and more than half said parking has an impact on which shops they visit.
91% of businesses thought signs pointing to arcades were poor.
Source: Cardiff Central Market and Historic Arcades - Cardiff Council
Cardiff Central Market is also in need of a boost, the review found.
The market hall, dating from 1891, has been described as an "architectural gem".
It is nearly full and its stalls range from butchers, grocers and fishmongers, to vintage clothes, second hand records, cafes and a hairdresser.
But there is concern over maintenance, a leaking roof and the hall's appearance, which has been described in surveys as "dirty" and "grubby".
Among suggested improvements are a review of opening hours - including Sunday trading - better promotion on social media, exploiting the market's history as well as free wi-fi.
But the report says unless the market's look is improved and ongoing tenancy disputes and its "vision" are addressed, any rebranding will have a limited impact.
Steve Huxton, co-owner of the Rules of Play shop in the Castle Arcade, said St David's and John Lewis had been "a magnet" and now a more integrated approach to transport and promotion of shops in other areas of the city centre was needed.
"Anyone arriving at Cardiff station wouldn't know about the arcades or where they are," he said.
"There have also been changes in where the buses stop and we need a bit more of an even split between the different shopping areas so people aren't taken to one area at the expense of another".
The report, containing 17 recommendations, has been discussed by councillors and is now to go before Cardiff's cabinet.