Abertillery care home nurses struck off over 'shocking failings'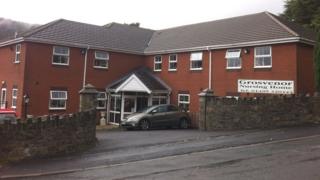 Two nurses whose care led to "avoidable harm to vulnerable patients" at an Abertillery care home have been struck off by the Nursing and Midwifery Council.
A disciplinary panel hearing in Cardiff ruled the care provided by Susan Reynolds and Heather Hayward displayed "shocking failings".
They were the manager and deputy manager of the Grosvenor nursing home.
The panel's chair called the photographic evidence "horrific".
Michael Cann said the two nurses' actions had been "fundamentally incompatible with remaining on the register."
The panel found that between 2002 and 2007 they failed to implement proper care plans, failed to ensure one patient received sufficient nutrition despite warnings, and failed to ensure pressure wounds were treated.
A "catalogue of wholesale failures towards extremely vulnerable patients" was described by the disciplinary panel which concluded the fitness to practise of both nurses was impaired and that they should be struck off the nursing register.
After the hearing, the daughter of one of the patients, Dorothea Hale, who died in 2007, said she was relieved the nurses would no longer practise.
'Vulnerable'
"It was their responsibility to meet my mother's basic care needs and they weren't met," said Catherine Cawte.
"It was very long and difficult for whole family. It's been going on since 2006 and in that time I've lost my father and he's not here today to hear the result and this may be the only justice that we have."
She said the evidence she heard suggested her mother "didn't have very much care at all", and said that her family knew nothing about the significant pressure sore her mother had had until she had been admitted to hospital.
"The consultant reported it was the worst he'd ever seen and we were never privy to that as a family," said Ms Cawte.
On the nurses being struck off, she said: "I'm relieved. From 2006 until now, that's all I've hoped for is that they'll never, ever make people suffer like my mother suffered, like our family suffered and my father suffered, they'll never be able to do that to a vulnerable person."
The home was one of several in the Gwent Police force area investigated under Operation Jasmine, the UK's biggest inquiry into alleged abuse at six care homes in south Wales.
The investigation collapsed after the owner of another care home was declared unfit to stand trial after suffering brain injuries in an unrelated assault.
The investigation had cost £11m and identified 100 potential victims and the Welsh government ordered an independent review into what lessons could be learnt last year.
The Grosvenor care home is under new ownership after it was taken over in September 2011.