James Richards tipped for Turner Prize 2014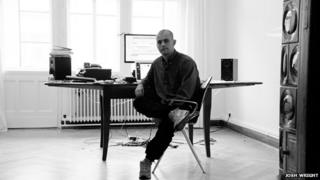 The work of Welsh video artist James Richards has gone on display in London as part of the Turner Prize 2014 exhibition.
His nomination for the £25,000 prize is for the video he presented at the Venice Biennale in 2013.
Richards' video, called Rosebud, mixes censored pornographic images he found in a Japanese library with footage the artist filmed in the countryside.
Two other video artists and one print-maker have also been nominated.
Some critics have already judged Cardiff-born Richards' work the favourite to take the prize.
Previous Turner Prize winners include Damien Hirst and the sculptor from Bangor, Richard Deacon.
Richards, 31, is a graduate of Chelsea School of Art. He has previously staged solo exhibitions in London, Japan and Turkey.
Coupled with an amplified soundtrack of muffled noises, his exhibit is designed to convey a sense of tenderness and claustrophobic intimacy.
As well as Rosebud, his exhibition at Tate Britain includes a number of large blankets that are illustrated with photographs of people associated with the artist Keith Haring, while a slideshow in the same gallery presents pages from a theatrical make-up manual.
Two other nominees for the prize, Duncan Campbell and Tris Vonna-Michell, were also selected for their use of abstract videos. Only the Canadian-born artist Ciara Phillips avoids digital art in favour of large, colourful screen prints.
Richards cancelled plans to attend the exhibition launch but in an interview released by the organisers he said his video was similar to more traditional ideas of abstract art.
He said: "I feel like it probably has more of a relationship to something like abstract sculpture or painting."
He said the work was about establishing a "period of time" in which "these kinds of sensations happen with material".
"And although none of the material itself is actually abstract, it's all very much stuff from the world, I like to treat it in a way that is very abstract," he said.
Lizzie Carey-Thomas, the curator of contemporary art at Tate Britain, explained that Richards also has a musical background.
"His editing style has much in common with musical composition, and actually he came to visual art from a musical background himself.
"So through his manipulations, through the way he places footage next to other bits of footage, the way he adds sound, he's trying to really create an effect on you from the imagery."
While the bookies' early favourite to win the prize was Duncan Campbell, some critics have opted for Richards' work.
But the cultural commentator Richard Fitzwilliams said the overall standard of nominees this year was poor compared to previous years.
"I think James Richards is the likely winner, given the standard of the competition. I think that his video is rather evocative, although it's unclear why semi-pornographic images are intercut with those from the natural world.
"Equally, I have to say that this is the dullest shortlist for the Turner Prize that I can remember."
The Turner Prize 2014 exhibition runs at Tate Britain until 4 January 2015. The winner will be announced on 1 December.