Bangor University denies merger talks over Glyndwr University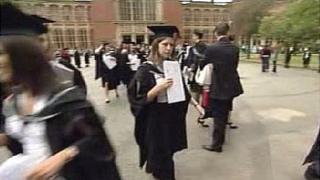 Bangor University has denied talks with higher education's funding body about a merger with troubled Glyndwr University.
Wrexham MP Ian Lucas's wrote to the Higher Education Funding Council for Wales (HEFCW) after reports they wanted to merge the two.
But Bangor University said the comments are "misinformed".
HEFCW said long term student needs should be put ahead of "parochial" or personal interests.
Job losses were announced at Wrexham-based Glyndwr University earlier this year as the institution tries to save money.
Fifty staff volunteered for redundancy.
'Entirely unacceptable'
Mr Lucas said in his letter that a merger between Bangor and Aberystwyth had already been rejected.
"I am very disturbed that I have heard from a number of sources that HEFCW is pursuing an agenda of merging Glyndwr University with Bangor University," he wrote.
"I want you to be clear that this proposal is entirely unacceptable to me and to the people I represent".
A Bangor University spokeswoman said it has been "willing to assist in order to safeguard the interests of the students" at Glyndwr University but there had been no merger discussions.
Dr David Blaney, chief executive of HEFCW, said it would be supportive of Glyndwr if it explored options.
He said: "It is no secret that we have believed and still believe that higher education in north east Wales would have a stronger and more sustainable future as part of a larger structure which would be better able to withstand the current climate of recruitment, funding and international competition."
He said it was premature "to close our minds" to how best to meet the needs of students.
"We all bear a responsibility to put those long-term needs ahead of any short-term, parochial consideration of structures, personal interests or histories," he added.
"In our experience, such matters are rarely helped by being played out in public, or being subject to partial, or ill-informed commentary."