Aldi warehouse in Wentloog, Cardiff, 'to bring 400 jobs'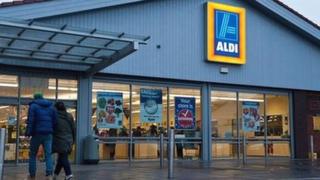 The discount supermarket chain Aldi is to build a warehouse on the outskirts of Cardiff, which it claims will create 400 jobs.
The supermarket, which has announced a big rise in full-year profits, will build a distribution centre at Capital Business Park in Wentloog.
The planned 42,200 sq m (454,000 sq ft) warehouse, offices and loading bays would sit by the Gwent Levels.
The development was given planning permission by Cardiff council.
Plans for a regional distribution centre for Aldi at the site were first submitted in 2004 but were put on hold.
Based in Essen, Germany, the firm opened its first UK stores in 1990 and has more than 450 shops across the country.
On Monday, it announced it had increased its share of the British grocery market after posting a big rise in full-year profits.