Prime Minister David Cameron's rallying call to Welsh MPs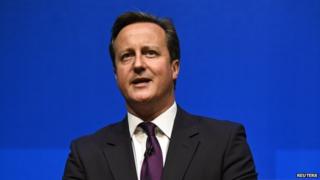 The prime minister has given a speech to the Welsh Conservatives about seats to target in next year's general election.
David Cameron addressed Welsh party members at a private reception at the Conservative conference on Sunday.
He said Gower, the Vale of Clwyd and Brecon and Radnorshire were seats to win in 2015.
The Tories last won Brecon and Radnorshire 22 years ago but have never held Gower nor the Vale of Clwyd.
Commons leader and former Welsh Secretary William Hague, who is stepping down as an MP next year, also gave a rallying call at the reception in Birmingham.
He said: "As the prime minister said, key seats, the Vale of Clwyd, Brecon and Radnor, Gower, these are the places we're all going to pile into and I want you to know that now that I've stepped aside as foreign secretary I'm going to come and campaign for you ahead of the general election."
He added he and his Cardiff-born wife, Ffion, were looking forward to spending more time in Wales.
"We're proud of Wales all across the United Kingdom and of the success of that (NATO) summit and I'm very proud of all you in the Welsh Conservative party, and, of course, you are an example to the whole party and the work you do."