North Wales fire service jobs warning over budget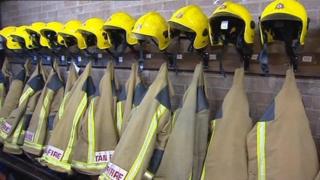 Losing around a quarter of north Wales' firefighter posts could be a "realistic scenario" without extra funding, its fire and rescue authority has heard.
The service has found £2.4m budget savings since 2011 but £3m more is needed over the next five years.
Bosses are warning if a budget freeze continues, "any further savings would inevitably have to come from a reduction in front line service".
North Wales fire service currently has about 800 firefighter posts.
A consultation document on increasing the service's budget will be launched next month.
The six local authorities which fund the region's fire and rescue service are currently being briefed by fire chiefs.
Three "realistic scenarios" that could potentially release the savings needed were presented to the Improvement Planning Working Group earlier this year.
In a report to the authority, Dep Ch Fire Officer, Dawn Docx said: "In summary, continuing to freeze the budget until the end of this decade would require significant reductions in the order of closing nine of the current 44 fire stations, removing 17 of the current 54 fire engines and losing around 228 out of the current 799 operational firefighter posts."
In order to avoid such a "disproportionate reduction" the authority is aiming to increase its revenue budget by £3m, or no more than £1 per head of the population in north Wales, between 2016 and 2020.
A spokesperson for North Wales Fire and Rescue Service said: "We are currently holding briefing sessions with each council on how to prepare our improvement plan for the fire and rescue service - some have already taken place whilst others are yet to come, before the public consultation begins.
"Some sessions are in public and some are for council chief officers, as each council sees fit.
"Councils will then have the opportunity to respond as part of the consultation.
"Then all the responses will be will be discussed by the whole authority in order to determine whether the draft improvement plan will be accepted as in full."