Llys Rhosyr medieval court to be rebuilt at St Fagans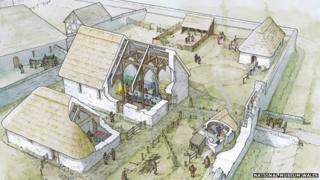 Work to reconstruct one of the medieval courts of the Princes of Gwynedd has begun at St Fagans National History Museum, near Cardiff.
Rebuilding the great hall from Llys Rhosyr on Anglesey will be one of the most challenging archaeological projects in Wales, said the museum.
It will see the building's nine-metre high (29.5 ft) stone walls and thatched roof rebuilt.
It is part of wider renovations of St Fagans.
Once complete, schools and groups will be able to stay overnight.
What was Llys Rhosyr?
Llys Rhosyr was one of the royal courts of Llywelyn Fawr - Llywelyn The Great (1172-1240) - who was prince of Gwynedd in the 13th Century, succeeded by his son Dafydd ap Llywelyn
The princes ruled by touring their realm and sitting in courts in small administrative areas called "commotes". Each had a Llys (court)
Llys Rhosyr was at the heart of the Menai commote near where Newborough parish church is now
King Edward I's conquest of 1282 led to Rhosyr being largely abandoned
Around 1330 a sandstorm buried the site beneath sand dunes
It was discovered in 1992 by archaeologist Neil Johnstone
The site was partially excavated, including a large main hall and a building thought to have housed the prince's private rooms
The reconstruction at St Fagans will be a re-imagining of what the great hall would have looked like
The redevelopment, funded by the Heritage Lottery Fund and the Welsh government, includes a new building to illustrate the story of Wales from 230,000 BC and an Iron Age settlement Bryn Eryr, also from Anglesey.
The revamp has provided two apprenticeships with the museum's historic buildings unit.
Trainee stonemasons Matthew Roberts and Brett Burnell will join the team after funding was granted by the People's Postcode Lottery.