Sully beach clear of rubble after 30 years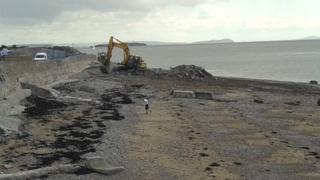 Thousands of tonnes of rubble and metal have finally been removed from a Vale of Glamorgan beach, 30 years after being dumped there.
A restaurant-owner, whose business overlooks Swanbridge beach near Sully, has paid to return it to its former glory.
The clear-up took two years, with work by mechanical digger and by hand.
The debris, including concrete and metal, was dumped in 1984 when work was carried out to strengthen a sea wall.
It has since been battered by the elements.
There had been safety worries, especially for children and dogs using the beach, which overlooks Sully Island.
Businessman Gordon Hadfield, who owns the Seashore Grill and Cafe Bar and a caravan park, had been looking to get the rubble removed for the last decade.
"It's been a hard task - it's taken two years but it's no longer a rat-infested beach," he said.
"There was an awful lot of sand and silt mixed in over the years and most of the time there have been just two of us working on it, with the digger, removing it and crushing it."
Mr Hadfield added: "We wanted to get it finished for the 30 years since the problem was first reported - and that's today.
"There is just a bit to remove at the one end but it's 99% finished. It's nice to see it come to an end."
Work got under way after the Crown handed over the affected part of the beach to him for £1 and he paid for the removal work.
Community councillor Chris Tatt said: "A lot of effort has gone in and the job they've done deserves everyone's congratulations."