Wales ambulance chief Elwyn Price-Morris stands down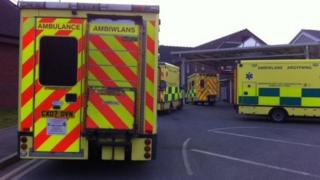 The chief executive of the Welsh Ambulance Service is to step down from his post at the end of the month, citing ill health.
Elwyn Price-Morris will be on sick leave and will remain on the ambulance trust's payroll, but will not return to his current post.
The news comes two days after a woman died in the back of an ambulance while waiting for a hospital bed in Swansea.
Cardiff and Vale health board's deputy chief executive will take over.
Tracy Myhill will be the interim head for 12 to 18 months until the trust appoints a permanent replacement.
A statement from the trust said Mr Price-Morris had had serious health problems for six months.
Trust chair Mick Giannasi said: "Elwyn has led the trust very ably for the last four years and has made a significant contribution to the development of the organisation during that time.
"Whilst there are still significant challenges to be addressed, not least the need to improve current levels of performance, he leaves the organisation in a stronger position than he took it over."
In June, Health Minister Mark Drakeford said the ambulance service had three months to achieve "urgent improvements" after it failed to meet response time targets.