World War Two plane's crew remembered after Pembrokeshire crash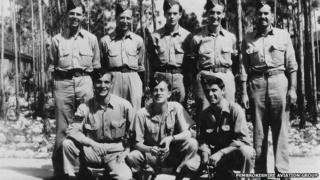 The crew of a World War Two plane which crashed in the Preseli Hills in Pembrokeshire during a night flight is to be remembered 70 years on.
Six RAF servicemen died after the Liberator bomber came down just below the top of one of the hills south of Cardigan. Three survived.
Some of the burnt-out wreckage remains on the hill, along with a plaque erected 30 years ago.
A walk to the crash site and a service is to be held to honour the crew.
Two nephews of Flt Sgt Raymond Sellors, one of the men who died, will be among those taking part in the event, organised by the Pembrokeshire Aviation Group, which put up the plaque on the hill in 1984.
They will pay tribute to those on board during the crash near Carn Bica that fateful evening on 19 September 1944.
The plane, which was used to patrol the seas looking for U-boats and enemy ships, was carrying four Canadians and five British men when it took off for an exercise with a Royal Navy submarine off Anglesey.
Investigations showed the aircraft was flying slightly off course in the dark after leaving its base in St Eval, Cornwall.
"It was also suggested that the crew on board had not re-set their altimeters, which would have showed them how high they were flying," said Malcolm Cullen, a member of the Pembrokeshire Aviation Group.
"If they had been a quarter of a mile west or a few feet higher they wouldn't have hit anything."
On the afternoon of the crash, Warrant Officer Stan Kearey and his crew were off duty after completing a nine hour anti-submarine patrol the previous day.
That changed when the Royal Navy offered the use of one of their submarines for an exercise and the crew were quickly contacted and scrambled.
All except for one - Air Gunner Danny Quinn, who was in town doing his laundry.
He returned to his barracks to find his crew had been called out. The following morning he found out that his crewmates had crashed in the Welsh hills.
Mr Cullen said it was important to remember the tragedy, which still affected the people who remember it.
"Local people would have been first to the scene," he said.
"It's still in the minds of people who would have been involved or their families."
The site was quite hostile for rescuers so parts of the plane wreckage that could not be brought down the steep hill were burnt there, said Mr Cullen.
Some molten metal remain, along with a patch of scrub where grass is no longer able to grow.
Four of the crew are buried at Haverfordwest in Pembrokeshire and Mr Cullen intends to lay a poppy cross at their graves after the walk.